Paint color choices and best painting tools for a beautiful, bright, and modern home office makeover during week 2 of the one room challenge of spring 2021.
Disclosure: This post may contain affiliate links and I may earn a small commission if you decide to make a purchase by clicking the link at no additional cost. As an Amazon Affiliate, I earn from qualifying purchases. You can read my full disclaimer here
I cannot believe we are already in week 2 of the One Room Challenge!
I am participating as a guest blogger with many other bloggers in the One Room Challenge where everyone gets to makeover a room of their choice over 8 weeks.
You can see all the featured designers here and all the guest participants with a blog here.
I am making over my home office and you can read all about my plans and design for the home office here that I shared last week.
This week, for me, was all about choosing paint colors for the room and the cabinets in addition to a lengthy but fun experiment on choosing the best primer and paint combination for laminate cabinets.
I am sure that there are many posts out there on how to paint laminate and the best products for it, but I wanted to test out a few things on my own and make my choices.
Let me share the progress and choices I made this week for my home office transformation as part of the One Room Challenge.
PAINT COLOR – WALL
The first thing I needed to do with this home office makeover project was to paint the room. Naturally, choosing the paint color for the walls tops the list of choices to be made.
I always knew that I wanted white walls in the home office and who better than Studio McGee to guide me! Almost all of their designs incorporate white walls and I absolutely love it! 🙂
They have an entire blog post dedicated to white paint colors that they use in their projects. You can read all about it here.
I picked up samples of Simply White and Chantilly Lace by Benjamin Moore based on what I read on the post. I also picked up samples of Pure White and Extra White by Sherwin Williams based on a few inspiration images on Instagram.
Chantilly Lace and Pure White are both really cool whites. Extra White is also cool, but it has a hint of grey as well. Simply White looks warm with warm tones and cool with cool tones, exactly like the Studio McGee blog post says.
Who knew that there are so many choices in white!
THE WINNER
My design has a bit of warm elements like gold hardware and lighting. Here are the lighting options that I am considering for my home office design.

The cabinet color I chose is also a bit on the warmer side and I'll talk about it in just a bit.
Therefore, I need a color that is warm, but not too warm and something that will play along with the warm elements in the room!
The leaves with me just one choice!
It's none other than…drumroll please…
SIMPLY WHITE by Benjamin Moore!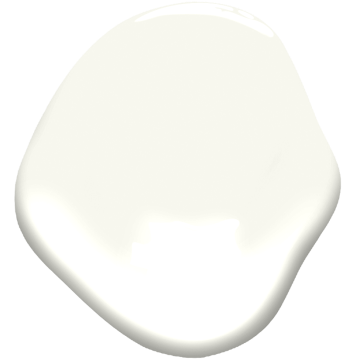 We've just begun painting and covered two walls, but I am already in love with the color!
Here is a sneak peak 🙂
We are painting 3 walls in Eggshell finish and the wall with the cabinets will be painted in a Flat finish. I plan to stencil this wall and from my research, I found that stencils work better on walls with a Flat finish.
PAINTING TOOLS
While paint color is the most important aspect of a paint project, it cannot be executed to perfection without the right tools. Here are some tools that I swear by for any paint project.
BRUSHES
I could not live without this brush for cutting. It's simply the best. The flexible handle makes cutting so easy!
The other brush that I use for almost all my paint projects is this one. It's so great for all types of painting.
ROLLER
When we started painting, it was going too slow and it seemed very strenuous. My husband and I were not sure why.
While my husband was at the local home improvement store shopping for something else, he remembered to check with the store's paint expert on what could be making our painting difficult and slow.
Turns out, we had been using the wrong roller all this time!
He suggested that we use this roller and it worked like a charm. If you have textured walls, you absolutely need this roller. You'll thank me for it 🙂
TAPE
Even if you don't take any other painting tool suggestions from me, take this one. I just cannot do without this tape!
Hands down, it's the best paint tape there is.
It works on multiple surfaces including textured walls and prevents paint bleed like nothing else!
LADDER
Since we have a 12-foot ceiling in the home office, a sturdy ladder is a must and this ladder is one of the best.
It super sturdy and the control mechanism is so user friendly! Just take a look at the reviews everywhere if you don't believe me.
These are pretty much my top choices when it comes to painting tools!
PAINT COLOR – CABINETS
Let's move onto the most exciting part of paint color choices I had to make for the home office makeover. The cabinet color!
Normally, I stick to very neutral colors like whites and grays. This time, I wanted to get out of my comfort zone and try something different.
I have been seeing green in a lot of projects lately and I love it. Just look at these inspiration images. Aren't they gorgeous?
These are just a small selection of images incorporating green. I have seen so many others and decided that I want to go green too! 🙂
Having said that, I'm still not brave enough to paint all the cabinets green. Instead I chose to go for a two-toned look!
The upper cabinets will be white and the lower cabinets will be green.
The exact green I chose for this project is:
PRIVILEGE GREEN By Sherwin Williams
The paint finish that I chose for the cabinets is Satin.
Usually, for cabinets, Stain or Semi-Gloss are the best finishes. I chose Satin for its silky smooth finish. Semi-Gloss normally has a slight sheen to it. I didn't want that for this project.
PAINTING LAMINATE
With the paint colors in place, I realized that the IKEA cabinets I chose for my design have a laminate front and painting laminate is not easy. Without the right prep in place, paint can peel right off of laminate. I researched quite a bit online and found multiple choices.
Most of them suggested that sanding and using this primer. But then, I also came across others saying that this primer did not work for them.
Then I found this post by Ashley which is so detailed and gives a lot of information on how to paint IKEA cabinets. Her suggestion is to use Dixie Belle's Slick Stick primer.
When I was picking up paint samples, the paint expert at the store suggested a different primer and paint specifically meant for cabinets and furniture.
At this point, I was quite confused and so I decided to run my own experiment on the best combination.
I used multiple combinations of sanding vs no sanding, different primers, and paints. Here is a list of what I tried:
NO SANDING
Slick Stick Primer + Sherwin Williams – Privilege Green Sample
Valspar extreme bonding primer + Valspar Cabinet Paint – Privilege Green (Color didn't match – round 1 of the color match)
Slick Stick Primer + Sherwin Williams – Coastal Plain Sample ( I went with Privilege Green instead of this color)
Valspar extreme bonding primer + Sherwin Williams – Privilege Green Sample
Valspar extreme bonding primer + Valspar Cabinet Paint – Privilege Green (Color didn't match again – round 2 of the color match)
Slick Stick Primer + Sherwin Williams – Privilege Green
WITH SANDING
Zinsser Shellac Primer + Sherwin Williams – Privilege Green
Slick Stick Primer + Sherwin Williams – Privilege Green
WITH LIQUID DEGLOSSER
I found a bottle of liquid deglosser in the garage and decided to give it a try as well. If you don't know what that it is, it's a liquid that you wipe down the surface you are painting with, instead of sanding it.
Here are the combinations I tried with the deglosser
Zinsser Shellac Primer + Sherwin Williams – Privilege Green
Slick Stick Primer + Sherwin Williams – Privilege Green
Here is a picture summary of my experiments:
I am so glad I did these experiments because a winning combination emerged!
This will make cabinet painting so simple for me. The color turned out perfect and it passed my scratch test (I scratched the paint with a paint can opener) with flying colors! 🙂
Here is the winning combination:
SANDING + SLICK STICK PRIMER + SHERWIN WILLIAMS – PRIVILEGE GREEN
I must mention that I did not find much difference between using a liquid deglosser and sanding before priming. Therefore, if you would like to skip sanding, it's quite ok to go with a liquid deglosser such as this one.
That's all I accomplished for this week. DECISIONS – about paint 🙂
I will move on to the building, or rather assembling IKEA cabinets next week.
If you would like to see other paint projects that I have done, check out my Fall Centerpiece Project.
Do follow along for more details on my home office makeover project during the One Room Challenge and to see how it all comes together. I'm pretty excited to keep moving and finish the room 🙂
Do you like my paint choices? Don't forget to follow me on Instagram for more detailed and day-to-day updates on the progress.
Check out other posts related to my home office transformation.
MODERN HOME OFFICE PLAN and DESIGN – ONE ROOM CHALLENGE – WEEK 1 (Spring 2021)