Design and plan for a beautiful and rich pooja room (prayer room) makeover during Fall 2021 – One Room Challenge
Disclosure: This post may contain affiliate links and I may earn a small commission if you decide to make a purchase by clicking the link at no additional cost. As an Amazon Affiliate, I earn from qualifying purchases. You can read my full disclaimer here
I'm so excited to start yet another One Room Challenge! The last challenge was so much fun and the end result was such a gorgeous home office that I get to sit in proudly every day!
When the result is something like my office, there is no way that I cannot participate in this round. I cannot wait to get started!
If you want to see the series of posts related to my home office makeover, start here.
BEAUTIFUL HOME OFFICE PLAN and DESIGN – ONE ROOM CHALLENGE – WEEK 1 (Spring 2021)
If you aren't familiar with what the One Room Challenge (ORC) is, it's a biannual interior design event hosted by Linda at Calling it Home. There are 20 featured designers and others with a blog or an Instagram account can participate as a guest. Everyone gets 8 weeks to makeover a room of their choice and share their progress weekly.
You can see all the featured designers here and all the guest participants here.
In this round of the One Room Challenge, I am transforming our Pooja Room which is an Indian, Hindu, prayer room.
THE POOJA ROOM
In the Hindu religion, idols of deities are kept on an ornate shelf called the Pooja Mandir and worshipped every day using flowers, lamps, turmeric, and vermilion.
Living in America, so far from home, I need a way to preserve our rich culture and heritage. So a Pooja Room is a must-have for me in order to do that. It's also my small way of teaching my kids about our religion, culture, and roots.
We have a den, right at the entrance of our home and it's the perfect spot for a prayer room. When we built our home, my parents and in-laws were here for the housewarming ceremony. As soon as we moved in, not wanting to miss daily prayers, they placed the idols of the deities in the den and that became a permanent spot for the prayer room.
When our elders have blessed us with so many good wishes, and designated a spot for the gods, my heart is set on keeping it that way.
All this time, there has been a small shelf for the gods and other parts of the room are being used for storage. That is not how it should be!
So, in this round of the One Room Challenge, I decided to transform our prayer room into a rich and beautiful sanctuary to offer our daily prayers!
THE INSPIRATION FOR THE POOJA ROOM
The minute I decided to transform the prayer room, I knew I had to incorporate something that represents the rich Indian culture.
I started racking my brain as to what that could be and I had my light bulb moment during a festival when I wore green glass bangles.
Green glass bangles have great significance in the life of Indian women. They are simple pieces of jewelry, quite inexpensive too, but are considered very auspicious for married Hindu women almost all over India. Coming to think of it, I have never seen my mother or mother-in-law without green glass bangles on their wrists.
Also, green is considered the color of prosperity!
That's when I knew, that I HAD TO incorporate the color green in my design one way or another 🙂
What better way to do that than an accent wall?
A green accent wall – this laid the foundation for the rest of my design.
THE ACCENT WALL AND POOJA MANDIR
Now that I have the color of the accent wall decided, I don't want it to be just a plain green wall. So I decided to add trim to create a unique look.
As I mentioned earlier, the idols are usually placed on an ornate shelf called the Pooja Mandir. They are available to buy in various designs, but the ones that I like are quite expensive. They run over $1800!
In order to keep my expenses in check, I will build a Pooja Mandir and that will be placed in the center.
Here are a few examples of Pooja Mandirs. I have yet to finalize the size and finish, but these images give an idea of the general direction that I'm heading in.
Now that we have talked about the Pooja Mandir, we can get back to the trim. There will be a panel of trim behind the pooja mandir and two more panels on either side.
For decor, I plan to add the following:
An Om stencil on the panel behind the Pooja Mandir
Hanging brass lamps
Plants and other decor Items
Wall decor on the other two panels
Here is a rendering of what the accent wall, trim, Pooja Mandir, and decor put together may look like.
I am sure that a few things might change along the way, but that's the nature of DIY projects.
THE STORAGE IN POOJA ROOM
It's most likely that the Pooja Mandir I build will incorporate some sort of storage, but that may not be enough. Several items are used during different festivals and need a home when not in use.
I found a beautiful used dresser online and bought it for a mere $40 and I plan to give it the same color treatment as the accent wall. It will be placed on the opposite side of the room.
A couple of floating shelves in the same finish as the Pooja Mandir added above the dresser will create a balanced look.
This should provide the necessary storage for all of my pooja Items.
SEATING
We usually sit on low-height wood stools or a mat while offering prayers. I plan to build a few of them if time permits. Otherwise, we'll just use mats until I can build them.
Here is what they typically look like.
But for anyone who can't sit down on the mat or these small stools, I wanted to add some other form of seating.
The lady the sold me the dresser had a headboard and footboard that she wanted to get rid of and asked me if I wanted them. Thankfully, I said yes. I have seen so many people build beautiful benches out of these and that's what I will do too!
Here are a few beds that have been converted to benches.
Such a neat idea, right!
WALLPAPER AND LIGHTING
The last few elements of my design are the treatment for the remaining walls in the room and lighting.
Since there is a lot of green, gold, and brass in the other design elements, I decided to wallpaper the rest of the room in this beautiful ivory and gold design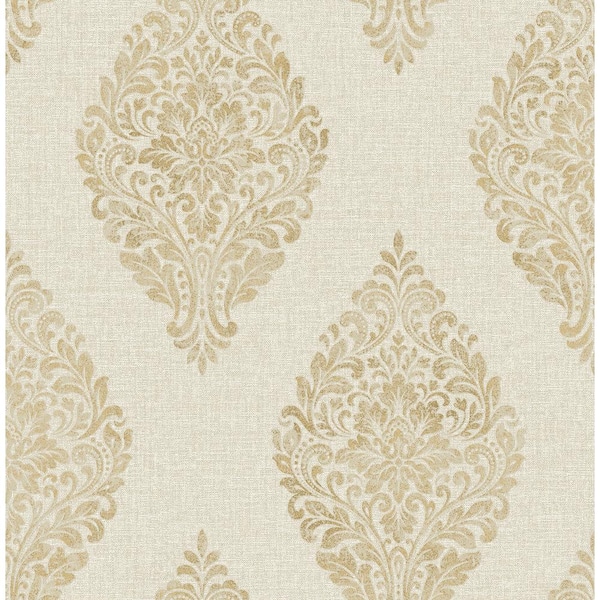 The last thing I decided to add is a beautiful gold chandelier to complete the design.
THE FINAL LOOK
Here is the complete mood board for my design for our Pooja Room.
Hope I can bring my vision to life in the next 7 weeks!
That's it for this week. Please do join me on the exciting journey as I transform our prayer room into a beautiful and rich sanctuary!
Do let me know what you think of the design. Follow me on Instagram for more detailed and day-to-day updates on the progress.